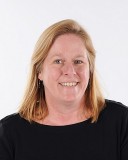 Children's House Teacher
I joined RMS in 1999 as an Assistant teacher and in 2005 became a Lead teacher. My husband, Bill, is also
a teacher at Ursuline Academy of Dallas.
Read Bio
Cheryl Thompson – Children's House Teacher
I received an Associate Degree from Del Mar College in Corpus Christie, TX in 1985.  I spent the early part of my career in the restaurant business.  I was introduced to Montessori when I enrolled my son at RMS when he was 4 years old.  I became very involved as a parent volunteer and after enrolling my daughter in RMS, I was so impressed with the Method, I was inclined to become an AMS Montessori certified teacher through Dallas Montessori Academy.
I joined RMS in 1999 as an Assistant teacher and in 2005 became a Lead teacher.  My husband, Bill, is also a teacher at Ursuline Academy of Dallas.  He has served as Senior Warden for the Church and served on the School Board.  Both of us have taught Sunday school and Children's Chapel for Church of the Redeemer.
I especially appreciate the 3 year cycle the children have when enrolled in a Montessori program.  They have the same teacher and classroom if they start at age 3.  This really helps the child become familiar and comfortable with their environment and teachers.  The teacher also is able to get to know each child's learning style.  It is always amazing to see the development of each student from age 3 through their Kindergarten year.
The language area in a Montessori classroom amazes me.  With the sandpaper letters children use their senses by tracing, saying, and hearing the sounds in the beginning.  They move on to the moveable alphabet to build 3 letter words before they are even capable of writing words on paper; soon after they are reading.  It is really something special!