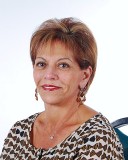 Children's House Teacher
I discovered Montessori in 1970.  Inspired by the Montessori Method and following in my mother's footsteps, I began a career as an Assistant Teacher.
Read Bio
Irene (Reniee) Hooper – Children's House Teacher
I discovered Montessori in 1970 when my first child attended Creative Learning Center in Dallas.  Inspired by the Montessori Method and following in my mother's footsteps, I began a career there as an Assistant Teacher.
I completed the AMS Montessori preprimary training through the Dallas Academy in 1985 and soon after began teaching at RMS.  I had the pleasure of teaching alongside my mother, Iris Grimalde, who taught preprimary as well as Spanish at RMS for twelve years.
I have always enjoyed the challenge of a good puzzle; therefore, the World Maps are one of my favorite pieces of equipment.  They are very colorful and specifically cut to fit precisely in a certain position and order.   The small pegs on each piece help the children develop the 3 finger grasp that they need strengthened to hold a pencil as they begin to write.  The pieces are color coded so that the children can begin to differentiate the continents and countries by their shape and color.
As a Montessori Teacher, with over 30 plus years of experience, mother of 3 children, 2 grandchildren, which are all Montessori Alumni, what I admire most about the Montessori philosophy, is that it's a method that allows us to see the child as they truly are, and of creating environments which foster the fulfillment of their highest potential (spiritual, emotional, physical, and intellectual)—as members of a family, the world, and community.