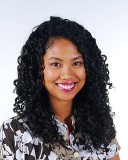 Toddler House Teacher
I joined Redeemer Montessori School in August
of 2013, but I have almost eight years of experience
as an Educator, four of which as a Toddler Teacher.
Read Bio
Katrina (Katie) Rana – Toddler House Teacher
I joined Redeemer Montessori School in August of 2013, but I have almost eight years of experience as an Educator, four of which as a Toddler Teacher. I graduated with a bachelor's degree in Secondary Education majoring in English from the University of St. Louis, and also completed my Montessori certification in Early Childhood from the Dallas Montessori Academy. I am currently completing AMS certification in Infant Toddler through Houston Montessori Center.  I have come to grow a passion for this age group because of their wide-eyed wonder and curiosity for life and hunger for learning new things.
I am originally from the Philippines and my husband is originally from Nepal. I love traveling, learning about new cultures and trying new foods. I also enjoy spending time reading, singing, dancing and spending time with my niece.
My philosophy for learning is that each child is unique, and each child learns in a different way. One of my jobs as a teacher is to help your child discover his or her individuality and work with them to maximize it. I believe in hands-on experiences, learning creatively and learning through work which is essentially a child's play.