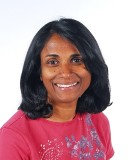 Children's House Teacher
I joined RMS in 1998. 'The senses can only come in contact with something concrete.' We see this clearly in the Montessori math area.
Read Bio
Lakmalie DeSoyza – Children's House Teacher
I hold a two year Association Montessori Internationale (AMI) teaching diploma.  I initiated my teaching career in Sri Lanka and worked for Belvior College International and Colombo International School for a period of three years before moving to the United States.  I joined RMS in 1998.
Maria Montessori believed that children learn best when they are able to absorb information using all their senses.
The senses can only come in contact with something concrete. The abstract is what has to be drawn out of the concrete. 
We see this clearly in the Montessori math area. In this area the material was made in such a way to have a child understand the physical sense of quantity.
To me the most amazing material is the Decimal System bead material. They are first shown on the demonstration tray as the unit, ten bar, hundred square, and the thousand cube. These help in understanding addition, subtraction, multiplication, and division. The decimal beads also let the child build the quantity up to a thousand in a visible way and to learn the value of place.  The Montessori philosophy is an amazing method of learning and teaching that I am proud to be a part.