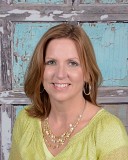 Upper Elementary Teacher
I began my Montessori experience when my own children attended a Montessori
elementary school. In 2000, I received an AMS Lower Elementary Certification,
and after 5 years in the Lower Elementary classroom, completed an AMS Upper
Elementary Certification. In 2009, I earned my Master's Degree in Montessori Education.
Read Bio
Sandra Hryekewicz – Upper Elementary Teacher
I began my Montessori experience when my own children attended a Montessori elementary school.  I fell in love with the Montessori philosophy and began working as a substitute teacher and as the Elementary Health specialist.  I then decided I wanted to take the Montessori training.  In 2000, I received an AMS Lower Elementary Certification, and after 5 years in the Lower Elementary classroom, completed an AMS Upper Elementary Certification.  I have been in the Upper Elementary classroom ever since.  In 2009, I earned my Master's Degree in Montessori Education.
My favorite part of the Montessori philosophy is the opportunity to teach each student at their personal academic level.  The multi grade-level classroom makes it possible to accommodate most every child's academic needs.  My favorite Montessori material varies from year to year and from student to student.  My favorite classroom material is the one, at any particular instant, that sparks a child's interest or causes an ah-ha moment.   I believe there is no better model of education that addresses the academic, emotional, and social needs of a child as well as the Montessori model.
I am married and have two sons who currently attend Texas A & M.  Outside of work, I enjoy reading, cooking, and spending time with my family and friends.