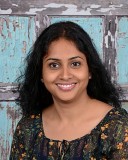 Lower Elementary Teacher
I took my AMS training at Dallas Montessori Academy and joined RMS originally as an intern in 2005.
In the Montessori environment, I most admire the
three age groups sharing the same classroom. 
Read Bio
Sangeeta Bhatia – Lower Elementary Teacher
I would like to introduce myself as a proud Lower Elementary teacher.  I graduated with a Bachelor's Degree in Arts from Sukhadiya University, India and after moving to Dallas, I took my AMS training at Dallas Montessori Academy and joined RMS originally as an intern in 2005.  I am married and have two beautiful daughters.  My husband and I are both very proud Montessori parents.  My oldest daughter has been attending RMS since she was 2 ½ years old.
I enjoy spending time with my family.  I like to cook and try out different cuisines, watch movies, travel, and socialize with my friends and family.
In the Montessori environment, I most admire, the 3 age groups sharing the same classroom.  It creates an opportunity for the students to be leaders as well as followers, and it helps the students to be responsible, develop confidence, respect, and learn from each other.
My favorite Montessori material is the stamp game; leading the students to learn static and dynamic addition, subtraction, multiplication, and division.  It also teaches the children about the decimal system and place value.  It allows the child to move from concrete to abstract concepts while doing the operations.  The students think they are playing a game with the stamps, but they are truly learning.