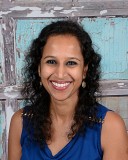 Lower Elementary Assistant Teacher
I have a deep respect and admiration for the Montessori
philosophy of education as it allows a child freedom within limits. It nourishes and develops a child who
is independent, self-motivated, has a love for work,
love for self, and love for others.
Read Bio
Shireen Khambati – Lower Elementary Assistant Teacher
I would like to take this opportunity to formally introduce myself as an assistant teacher in the lower elementary classroom. I hold a Bachelors of Commerce & Economics degree from my country of origin, Pakistan. I further did my Masters in Business Administration in 2001. Shortly afterwards, I moved to US and worked in the field of accounting and finance for a few years, up until I had my first child. I was blessed to be a stay at home mom and provide for my kids. All three of my children have been a part of Redeemer Montessori for a few years now, and have been the inspiration that led me to pursue a career in education. I attained my AMS Lower Elementary Teachers Certification from Dallas Montessori Academy in 2014 and completed my internship at Redeemer Montessori School.
I have a deep respect and admiration for the Montessori philosophy of education as it allows a child freedom within limits. It nourishes and develops a child who is independent, self-motivated, has a love for work, love for self, and love for others. My favorite Montessori material is the bead frame. It teaches the child multiple mathematical operations in a concrete manner, develops their motor skills, and intense concentration in a fun way.
I am looking forward to working with the children in their preparation of life.