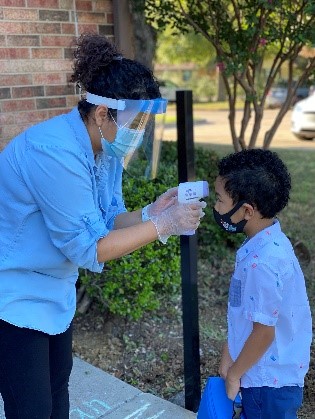 We were so thrilled and excited to welcome the children back on campus! After weeks of additional pre-service training on the new health protocols and procedures, the teachers felt confidently prepared to receive the children back into their classrooms. Certain steps have been implemented to ensure the health and safety of the children and staff alike. Each classroom has their own entry/exit door and health screens and contactless fever checks before entering the classroom.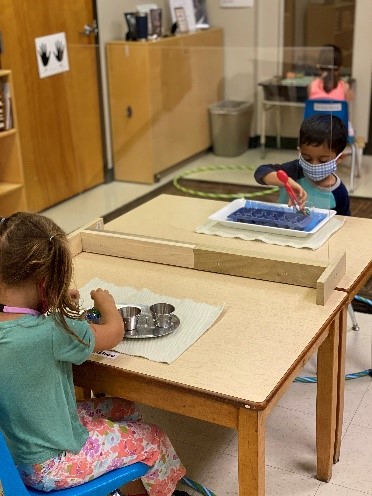 The children wash their hands as soon as entering the classroom and throughout the day. There are assigned chairs and tables for each child which are spaced apart or are separated by a plexiglass partition. The teachers wear face masks throughout the day and are constantly sanitizing high touch areas in the classroom as well as the playground. The children are taught to leave any Montessori work they've used at a sanitation station in order to be sanitized and ready for the next child.
Hula hoops are used as a great visual and fun way to teach the children about social distancing as they sit on the rug or walk in a line. Each child has their own work tray complete with their own art materials and their own work rug and table mat. We were very curious to see how the children would react upon returning to school. They quickly adapted to the new routines and enjoyed carrying the hula hoops while walking in line.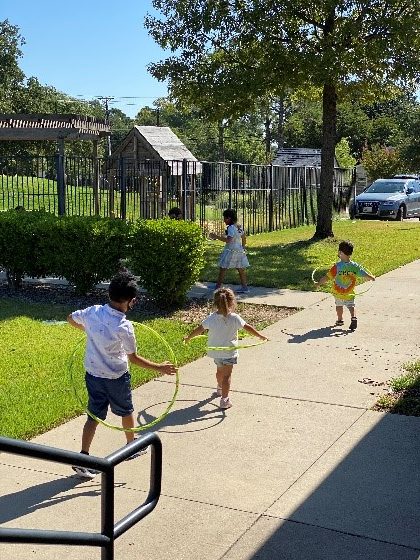 Although not required, some children came to school wearing face masks and did very well with keeping them on, in addition to wearing them properly. Considering all the new changes and after being gone for so long, we were pleasantly surprised to see the children's eagerness to be back to school and reunited with their teachers and friends. Their love of learning and joys of friendship was certainly evident despite our current global situation.
As Vivian Greene once said, "Life isn't about waiting for the storm to pass. It's about learning how to dance in the rain."

Written by Katie Rana
-RMS Infant Toddler Coordinator