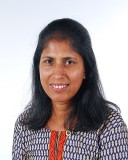 Lower Elementary Teacher
I strongly believe in the multi-age, thoughtfully
prepared child centered Montessori Elementary classroom environment as it fosters intellectual
stimulation and excitement for learning by challenging
children according to individual capabilities.
Read Bio
Padmini Raghu – Lower Elementary Teacher
I have been teaching at RMS for 10 plus years. I graduated with a Master of Arts in Sociology in 1993 from the University of Hyderbad in India. In 1997, I completed a Master of Science in Media Studies from Texas Christian University. I became interested in the Montessori philosophy after enrolling my daughter at Redeemer Montessori School. Now I hold three Montessori certifications, all earned through Dallas Montessori Academy: Early Childhood, AMS, in June of 2005, and a dual certification in Lower and Upper Elementary completed in 2013. I completed all the student teaching internships at RMS. My hobbies include reading, international news, and watching movies.
I strongly believe in the multi-age, thoughtfully prepared child centered Montessori Elementary classroom environment as it fosters intellectual stimulation and excitement for learning by challenging children according to individual capabilities.
The "Five Great Lessons," is one of my favorite Elementary lessons. The lessons are as follows: The story of the Universe and Earth, The Timeline of Life, The Coming of Humans Beings, The Story of Writing, and The Story of Numbers.
These lessons act as a springboard and trigger the imagination and curiosity of the child to further explore subjects like: Botany, animal kingdom, food chains, ancient life, solar system, ancient civilizations, fundamental needs of man, scientific discoveries, origin and structure of Language, origin of numbers, geometry and application of Mathematical concepts and science to name a few.
I am fully committed to the Montessori philosophy and the curriculum.